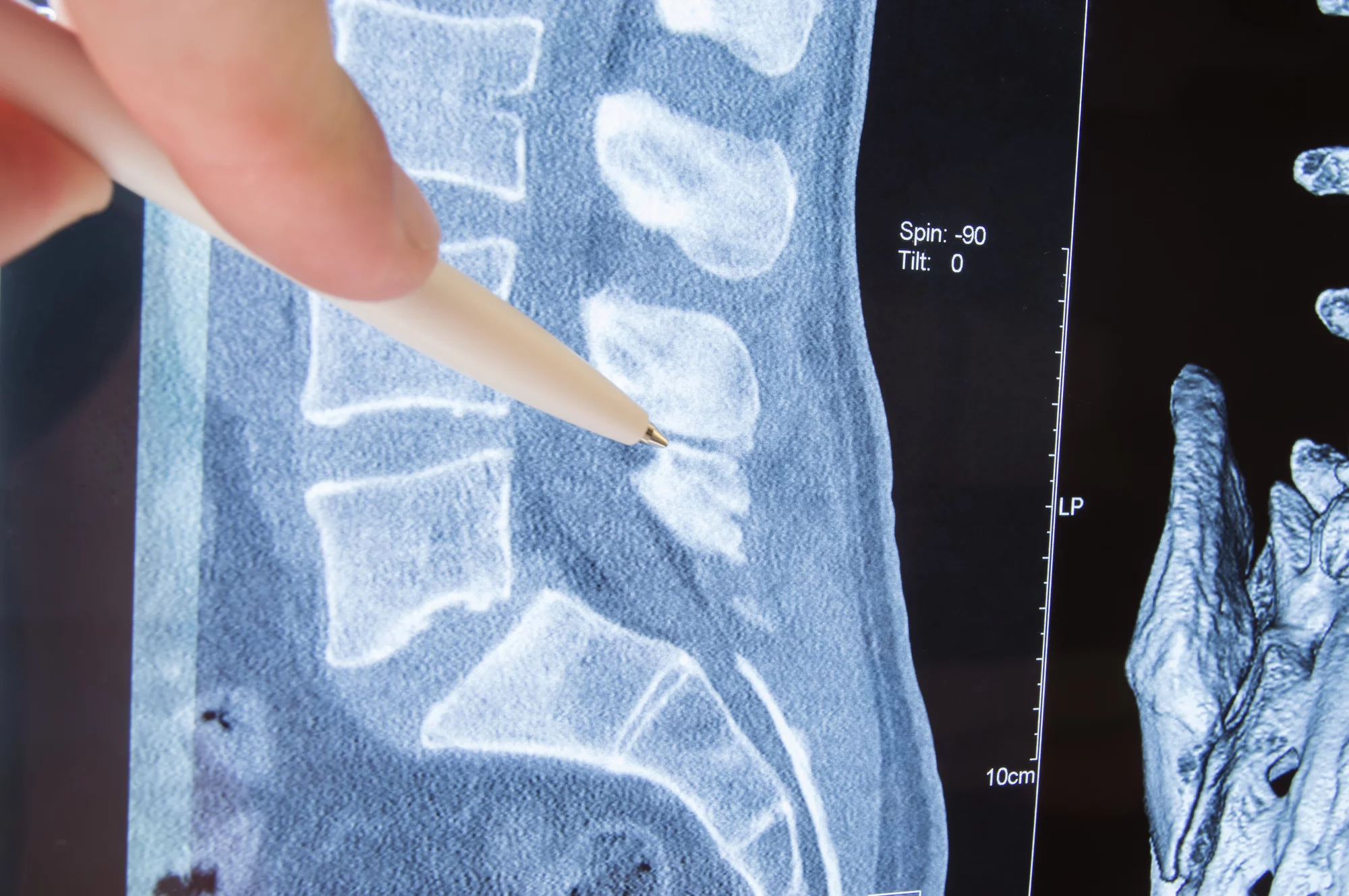 Do you suffer from intense pain in your back?
If so, you're not alone. The American Chiropractic Association reported most sick days at work occur due to back pain and that it serves as the single leading cause for disability in the United States.
Symptoms of spinal stenosis greatly contribute to this statistic. 
What is Spinal Stenosis?
Spinal stenosis refers to narrowing of the spinal cord. Causes of this narrowing include:
arthritis
bone spurs
degenerative spondylolisthesis
a herniated disc
scoliosis
tumors
an injury to the back
As this narrowing occurs, it causes the ligaments to thicken and the bones of the vertebrae to overgrow. The spine can narrow in one portion or in multiple portions.
Narrowing can occur in the spaces between vertebrae, the space in the middle of the spine, and or the part of the spine where the nerve plexuses branch outward. Cervical stenosis happens up in the neck while lumbar stenosis occurs down in the lower back.
This common cause of back pain should not get ignored. You should know what stenosis symptoms to watch for as it can lead to nerve damage, resulting in serious problems.
5 Important Symptoms of Spinal Stenosis
Pain serves as an alarm from your body to signal possible danger to your health. Back pain can come from all sorts of causes. When you experience back pain, you should look for other symptoms that can help you find the cause.
If spinal stenosis is causing your back pain, then you need to see a professional. Read on to learn 5 important symptoms of this debilitating condition.
1. Numbness and Tingling
Sometimes you may experience a harmless bout of numbness and tingling when you sit with your legs crossed for too long, and it goes away within minutes. However, if you continuously experience this sensation for no apparent reason, then it may signal something more serious.
Anytime you experience numbness and tingling for a prolonged period of time, you should pay attention. It signals trouble with your nerves.
As spinal stenosis narrows the spinal cord, it presses on the nerve. Nerves constantly send impulses to help you feel and move and an interruption to these impulses creates that pins and needles sensation or a complete loss of sensation. When spinal stenosis causes this numbness and tingling, you may feel it in your arm, hand, foot, and/or leg, depending on the area affected.
2. Weakness
Nerves allow for voluntary muscle movement by allowing you to feel the area and therefore manipulate it through electrical communication. Sort of the way you move Mario with a Nintendo controller.
As the narrowing damages nerves and blocks the impulse, they will not work properly. If you damage your controller wires, you may find that Mario only moves limitedly or not at all.  In the same sense, blocking nerve communication means that you lose control of the area that particular nerve regulates. 
As a stenosis symptom, you will experience this weakness in the same areas that you feel the numbness and tingling. You should seek help at the first sign of weakness.
One common form of weakness from this condition comes in the form of foot drop. This means that the weakness in the foot or leg muscles makes the foot slap the floor as the person walks. Early treatment may reverse this symptom, but letting it go may lead to permanent nerve damage and loss of function in that area of your body.
3. Difficulty Standing or Walking
Weakness leads to loss of function.
Cervical stenosis can lead to shakey hands or clumsiness. This can make it difficult to write, drive, and do other important daily activities.
Lumbar stenosis can eventually make walking and standing painful and difficult, as it weakens the legs and feet. This also affects the person's balance, causing falls.
4. Chronic Headaches
Cervicogenic headaches begin in the neck and spine, resulting from the pressed nerves. This type of headache closely resembles migraine pain. It feels steady and does not throb.
It may start as an intermittent pain in the head. Over time, the pain occurs more frequently.
It often starts at the base of the neck or between the shoulder blades and spreads throughout one side of the head. Sometimes the person may also feel forehead and brow pain as well.
5. Bladder or Bowel Incontinence 
As spinal stenosis progresses, the scope of muscle weakness grows. Cauda equine syndrome refers to a seriously progressed version of this condition. 
As the bony protrusions and swollen ligaments continue to compress the spine, the damage can start to affect the entire lower region of the body. This leads to the inability to control the bladder and/or bowels.
Not only can this create embarrassing situations, but it alerts you to a serious compression of the spinal cord. At this point, you need to get to an emergency room. Letting it go any further can result in permanent paralysis of the legs.
Treatment Options
To treat spinal stenosis symptoms, you may use pain relievers, anti-inflammatory medications, steroid injections, and special exercises. However, only spinal surgery fixes spinal stenosis at its source.
Device Implants
For a person not quite ready for a more serious procedure, a surgeon may provide the patient pain relief by implanting a device into the spine. This can help reduce pain by limiting the forward and backward movement to reduce spinal compression.
Minimally Invasive Laminectomy
This procedure allows surgeons to remove the lamina, a part of the vertebrae that protect the spinal cord, to relieve pressure. It can also involve fusing the spine, to create a single bone.
If possible, this provides patients with the best treatment option. It offers a long-term solution and does not require an extensive recovery time like the traditional, more invasive open spinal surgery.
Seek Professional Help for Your Back Pain
If you experience symptoms of spinal stenosis, then you should see a medical professional for diagnosis and treatment. Do not ignore your symptoms because they will not disappear on their own. Early detection of this condition can prevent permanent disability.
Living with pain greatly affects the quality of life. We want to help! Take your life back by booking an appointment with us today.