Executive Lab provides rapid COVID-19 testing in Newton, NJ. Get results in 15 minutes.
Learn how to schedule your test, read FAQs, and more!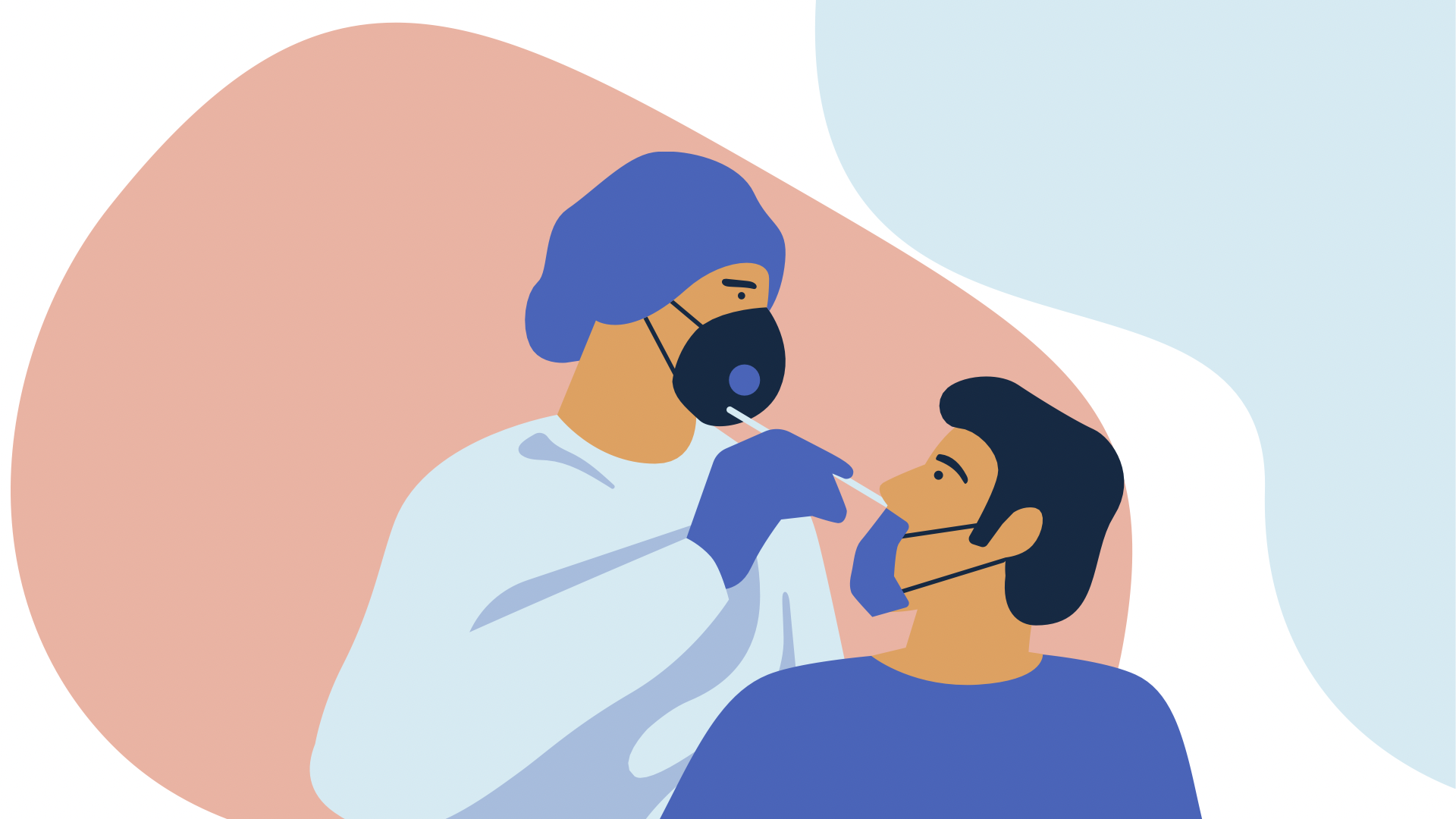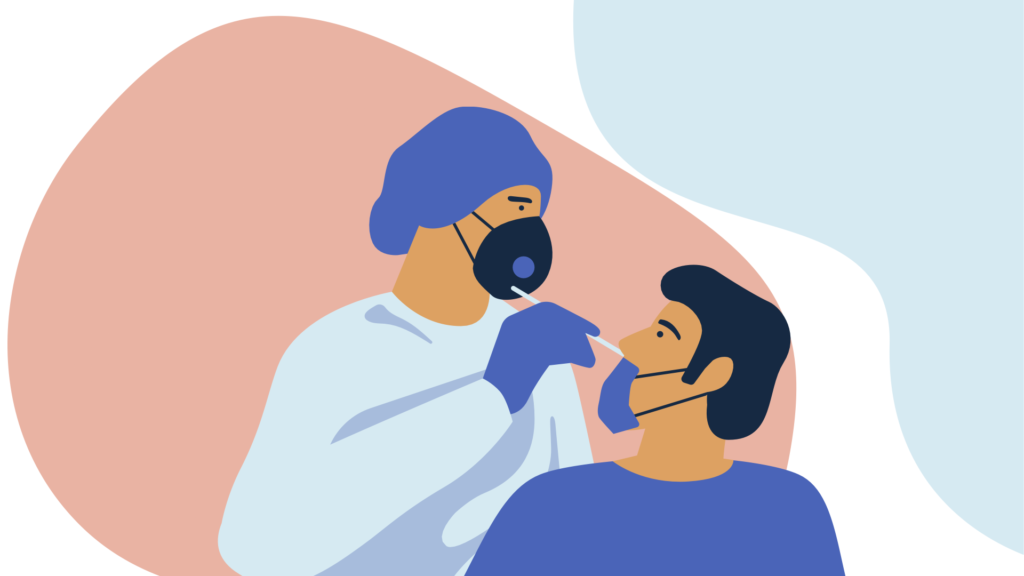 How Do I Schedule My COVID-19 Rapid Test?
We Accept Appointments and Walk-Ins at Our Newton Location
Schedule an appointment or walk-in.
Complete the screening tool before your arrival. Click here to access it. 
Bring a mask and a form of payment. If traveling out of the US, have your passport number on hand.
When you arrive, call (908) 452-5612 to let us know you're here.
We will come out and perform a nasal swab OR you can swab yourself. Whatever is more comfortable for you. (See self-swabbing instructions below)
Wait 15 minutes while we process your results. We will provide your clinical results.
---
Why Choose Executive Lab?
What We WILL Do
We provide accurate and fast testing. Within minutes, your results will be analyzed and you will be sent home with a clinical report.
We value your safety and wellbeing. Our staff abides by COVID-19 guidelines, so our patients and their families aren't at risk.
We make sure you have a great experience. Our staff is compassionate and understanding.
Our clinic has countless 5-star reviews… If you don't believe us, see for yourself!  
What We WON'T Do
We will NOT cause problems with your insurance, unlike other facilities. Clinics charge hundreds of dollars to their patient's insurance, just for a single COVID test! That is completely against our guidelines. We only accept cash and card for tests, making the process headache-free for you.
We have NO hidden fees. Honesty is our policy and we value transparency with our patients.
We will NOT overcharge you. We charge competitive rates, so expect to pay less than you would at another rapid testing center. See the cost below in our FAQ section.
How Do I Perform A Nasal Swab On Myself?
Follow These Easy Steps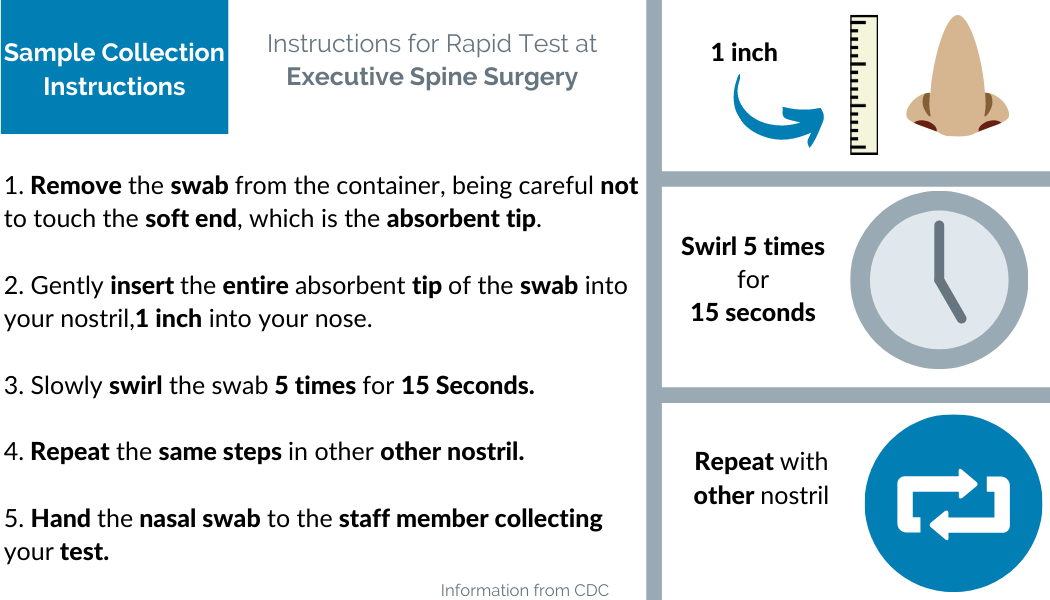 COVID-19 Test FAQs
You Have Questions, We Have the Answers
During this pandemic, it is important to keep everyone safe. Please click here to read more about what you should do if you test positive or negative. For further instruction, visit the CDC's website.
A negative test result means that proteins from the virus that causes COVID-19 were not found in your sample. It is possible for this test to give a negative result that is incorrect (false negative) in some people with COVID- 19. This means that you could possibly still have COVID-19 even though the test is negative. If your test result is negative, your healthcare provider will consider the test result together with all other aspects of your medical history (such as symptoms, possible exposures, and geographical location of places you have recently traveled) in deciding how to care for you. The amount of antigen in a sample may decrease the longer you have symptoms of infection. Specimens collected after you have had symptoms for more than 5 days may be more likely to be negative compared to a molecular assay. It is important that you work with your primary healthcare provider to help you understand the next steps you should take.
If you have a positive test result, it is very likely that you have COVID-19. Therefore, it is also likely that you may be placed in isolation to avoid spreading the virus to others. There is a very small chance that this test can give a positive result that is wrong (a false-positive result). Your primary healthcare provider will work with you to determine how best to care for you based on your test result along with your medical history, and your symptoms.
Please stay in your car when you arrive at our office. After you have finished filling out the screening tool, call our office to let us know you have arrived.
At our office, Executive Spine Surgery. Our address is 157 High Street, Newton, NJ 07860. We are across a park, on the same road as Newton Medical Center. The building is white with a parking lot and a large sign in the front. Call our office if you need assistance with directions.
No. At this time, we are not accepting insurance. Please bring a credit card or cash to pay for your test.
We accept cash and card, preferably cash.
Please wear a mask and complete the screening tool prior to your arrival. Bring your ID and a form of payment (cash or credit card).
A rapid antigen test can be administered for individuals with or without COVID-19 symptoms. Rapid tests are considered most accurate in a patient who is having symptoms of COVID-19. Rapid tests are faster and more efficient, giving you the immediate results you need.
It takes 15 minutes to process your results. You will be in and out in no time!
We noticed that many testing locations are not transparent when it comes to the cost of a COVID-19 test. They have hidden costs and end up charging your insurance hundreds of dollars. While PCR tests are commonly covered by insurance, they take a couple days to a week to get the results back to you. No one has time to wait DAYS for a test result, which is why we offer Rapid Antigen testing rather than PCR testing. Our tests take no more than 15 minutes for results. For this reason, we charge $50 for our COVID tests. We understand that $50 may seem like a lot of money, but rapid testing typically costs anywhere from $100-$200 at other test sites. We want COVID testing to be accessible for you, which is why we are charging on the lower end of the scale. With rapid testing, you are paying for accuracy and efficiency. We hope you value our honesty and transparency when it comes to the cost of the test.